ANNIVERSARY OFFER: SIGNED BOOK COPY
2018-08-25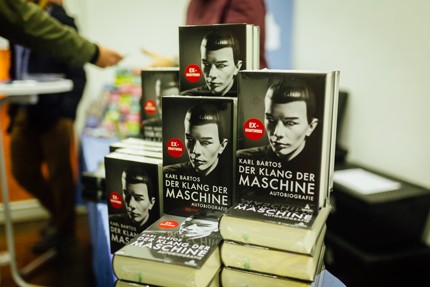 Get your signed copy! ©Patrick Beerhorst
+++++++++++++++SORRY, ALREADY SOLD OUT++++++++++++++
On 25 August 2017 Karl Bartos' long-awaited autobiography "Der Klang der Maschine" (The Sound Of The Machine) has been published in Germany. It's the only and first book that reveals the act of creation of Kraftwerk's music - written by someone who's belonged to the inner circle and writing team.
Although the main focus is on Kraftwerk, it is, however, a lot more than a book on the band, it's also a book about the music that inspired him to become a musician against all odds. It's about living in the sound of music since the Sixties and about the question how creativity developes and how the meaning of music has changed in the age of streaming.
Exclusively for our shop costumers Karl Bartos will sign a few copies (in German language). Please check out our shop! This special offer is limited and only available until Saturday, 25 August, 8 pm.
"[...] He turns out to be a passionate music historian, who knows about Igor Stravinsky as well as the Beach Boys. His curiosity and his knowledge make Bartos' autobiography Der Klang der Maschine a reading that is also interesting beyond the great theme of Kraftwerk."
Musik Express, November 2017
Readings non-stop ...
2018-05-02
End of April 2018: "100 Years of Beat" with Heiko Hoffmann at Haus der Kulturen der Welt
Our last reading so far has been at the festival "100 Years of Beat" at the crowded audimax @ Haus der Kulturen der Welt in Berlin. This time Karl Bartos focussed on electronic drumming and the questions: what is the nature of music and where does creativity comes from. Heiko Hoffmann, chief editor of Groove Magazin, hosted the talk. Thanks to the overwhelming resonance and the perfect HKW crew: You've made our visit very special.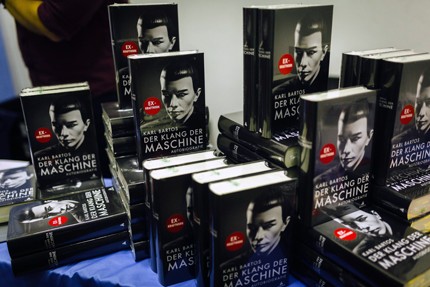 GERMAN DESIGN AWARD WINNER 2018
2018-04-02
Communication Special Edition Box: great design - great value
Congratulations to Lucas Buchholz & Bernd Brink, our longtime collaborators Weissraum Design: For their art work of the Communication Special Edition Box they've received the German Design Award 2018. Thanks to our label Trocadero for realizing it. Available here - visit website below.
Communication isn't simply just a re-release. It is the reloading of an overlooked electro-pop classic that is arguably more topically relevant today than when it was first released, such was the foresight displayed some thirteen years ago. Most impressively however, is that this re-release comes without any loss of musical power, and Bartos' sense of joy in making the music is still palpable. Fittingly, the audience reactions at his recent shows have mirrored this, having been met with intense enthusiasm.

A further reason why Communication is more than just a re-release is because the album documents and proves that Bartos has created his own musical language ahead of, and independent to, the cultural zeitgeist or anything resembling a fleeting fashion. Even though it was released ten years prior, Communication also connects seamlessly to Bartos' latest and critically acclaimed album, Off The Record (2013). Simply put: Communication is the reintroduction of timeless statement.

Karl Bartos: "It is not the business of music to be fashionable. The meaning of music is to bring people together."


Boxset includes:

1. 12" Vinylalbum "Communication"
2. exclusive poster "I´m The Message"
3. limited 7" vinylsingle "Life"
4. limited 7" vinylsingle "15 Minutes Of Fame"
5. 3 7" photoprints
6. 1 signed photoprint signed by Karl Bartos
7. Digipak Album CD "Communication"
8. USB Card inkl. all audio formats, 12" Remix by Matthew Herbert, Video, Graphics




visit website